Teacher Training Opportunities 2022-23
Do YOU want a career that makes a difference?
Cambridge Training Schools Network (CTSN) has the answer.
Saffron Walden County High School is a Lead School within Cambridge Training Schools Network (CTSN) who lead on teacher training in a range of subjects.
INITIAL TEACHER TRAINING
Saffron Walden County High School is a Lead School for initial teacher training working with the Cambridge Training Schools Network (CTSN). CTSN is a collaboration of Teaching School Hubs, MATs and local schools working together to provide the capacity to deliver effective teacher training throughout Essex, Suffolk, Cambridgeshire and Peterborough in order to generate its own high-quality teachers.
CTSN aims to recruit, train, and retain excellent candidates into teaching to meet the educational needs of the area. You will undertake most of your training within a school environment in one of our supportive and well-established school partners and taught be current teachers within our partnership schools.
WHAT ROUTES ARE AVAILABLE TO ME WHEN TRAINING WITH CTSN?
CTSN SCITT offers a range of routes of teacher training at both Primary and Secondary level to suit everyone.
Details of these different routes and course options can be found in two ways:
Via the DfE's Apply site by searching for area or provider and then course/route https://www.gov.uk/apply-for-teacher-training
Via CTSN SCITT's website https://ctsnscitt.info/ to find the list of the course codes for each route/course to aid your application - see also https://ctsnscitt.info/how-to-apply/application-process/
Once you register on the DfE site, you can search by place, course and then subject. You will get possible course/routes at this point to help refine your search. (See example search return)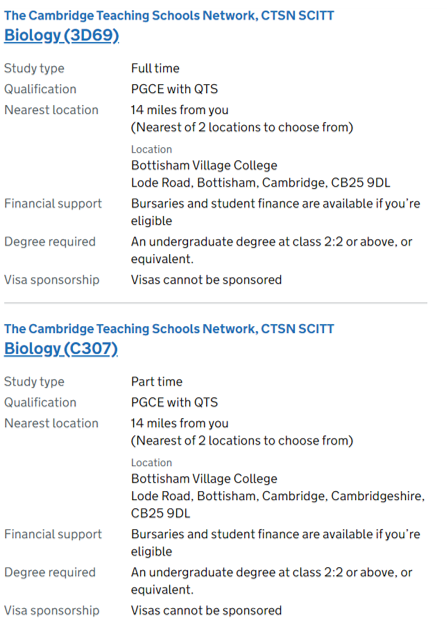 Saffron Walden County High School, using CTSN SCITT as its ITT provider, has three possible routes:
School Direct Salaried places are available for some subjects at Secondary level. These vary from year to year, but a full list of available courses can be found on DfE Apply and further information on this can be obtained by emailing scitt@catrust.co.uk.
Once accepted on the Teacher training course, the SCITT will help to support you to find a school to pay you on the unqualified teacher pay spine and fund your tuition fees. This means you can train whilst you earn. The route is aimed at the career changer and is normally for those candidates who have school experience already. The salaried trainee's will have a shorter 6-week second placement in a contrasting school and will spend most of their training time in their employing school setting, with whom their contract would be with.
School Direct Non-Salaried at both Primary and Secondary level is our 'fee paying' route and offers two placement schools, one until December and one from January through to June. The tuition fee also includes access to a PGCE with Anglia Ruskin University. Trainee teachers can access student loan financial support to help fund this route. This route suits trainees who have had limited in-school experience or would like a more gradual start to their teacher training. All Non-Salaried trainees in shortage subjects are eligible for a bursary from the Government of up to £28,000 depending on course and qualifications of the candidate. See the DfE Train to Teach site for current details on the different bursary rates for certain subjects.
School Direct Non-Salaried and Salaried Part Time Route offering the opportunity to train part-time over 2 years at both Primary and Secondary level in some subjects only. We offer part-time training routes in many subjects and always encourage you to contact us if your subject is not presented as a part-time option as it is possible to request this place form the DfE. For part-time salaried routes this follows the same conditions as the full time salaried route, but paid over two years (pro rata). Information on the part-time routes with CTSN SCITT can be found here https://ctsnscitt.info/part-time/
WHAT SUBJECTS ARE AVAILABLE TO TRAIN IN WITH CTSN?
SCITT General Primary Non-Salaried route.
SCITT Secondary subjects include Art and Design, Biology, Business Studies, Chemistry, Computing, Design and Technology, Drama, English, Geography, History, Maths, MFL in German and French, MFL in French and Spanish, Physical Education, Physics, Psychology and RE. (Some of these subjects will be offered as Salaried and part-time options and all will be offered as non-salaried options.
TELL ME ABOUT THE COURSE
Provider-led training one day a week and then school-based training with an expert mentor to support you. Weekly timetabled mentor meeting slot allocated to each trainee to allow you to reflect on your learning against the curriculum.
You will train in two contrasting school settings.
You will have access to subject specialist mentors offering bespoke subject training days throughout the course and a subject ITT training curriculum.
The course is one academic year and the possibility of part-time over two years.
WHAT QUALIFICATIONS DO A GET IF I PASS THE COURSE?
If you successfully complete the course, you will be awarded Qualified Teacher Status 'QTS.' This professional qualification is required to teach in state schools in England and Wales. Both the QTS and PGCE routes are equally valued by schools who want to employ the very best teachers in their schools.
Those trainees on the PGCE route work with Anglia Ruskin University on a PGCE which includes conducting a classroom-based action research project.
HOW AM I ASSESSED?
Assessment is against the curriculum you are taught, and evidence is created against this curriculum. This might take the form of a range of evidence including lesson plans, lesson observations by expert teaching professionals, assessment data for your classes - all of which you collect throughout the course. This evidence feeds into three reports all leading to QTS. Trainees are also required to submit two evidence bundles which are a zoom lens of your teaching of a key stage 3 class (years 7-9) and a key stage 4 class (years 10-11).
ELIGIBILITY
In order to apply for a place on our courses you must have:
A UK undergraduate degree (grade 2:2 or above) or a recognised equivalent qualification *(For Secondary applicants, usually, at least 50% of your degree should be directly relevant to the subject you wish to teach. However, applicants who have a relevant degree in a non-related subject but have significant work experience relevant to the subject they wish to teach may also be considered.)
A grade 4/C GCSE in English and Mathematics, or equivalent *
A grade 4/C GCSE in a Science subject, or equivalent * if you intend to train to teach at Primary level
* UK ENIC verification is required for all overseas degree and GCSE equivalent qualifications. You can check your overseas qualifications at the UK ENIC website.
If you are not sure about eligibility, please contact us to arrange a phone conversation about your situation.
You can also read more about eligibility on the Get into Teaching website.
If English is not your first language, we will require you to gain an IELTS Academic (International English Language Testing System, Academic Test) overall score of 6.5. IELTS Academic is an internationally recognized system for demonstrating fluency in English (Listening, Reading, Writing and Speaking).
If using IELTS for English GCSE equivalence, then we require an overall score of 6.5.
If you want to teach in a subject but require additional subject knowledge support, then a Subject Knowledge Enhancement course might be for you (SKE). These are available for some subjects free of charge when registered on an ITT course.
An SKE can support trainees who need additional subject development and are free for some subjects. Click on the link below to research this further. https://www.gov.uk/guidance/subject-knowledge-enhancement-an-introduction
WHAT DOES CTSN SCITT HAVE TO OFFER ME?
CTSN has an approachable, friendly, and supportive staff who really get to know our trainees, offering fantastic, personalised support. Each trainee has a Senior Tutor who will not only track your progress across the course, but also support any pastoral needs, including applying for your first teaching post.
CTSN is a highly reputable school network with three Teaching School Hubs and a Research School, alongside its wider school network of excellent schools, many of whom are rated 'outstanding' by Ofsted. This provides the perfect opportunity for those looking to qualify whilst learning to teach predominantly in a school setting. As a result, our employment record is excellent with a majority of trainees offered teaching posts in our partnership schools. This is a real strength of our course.
CTSN is currently working closely with Anglia Ruskin University to deliver the PGCE element of the course. (A must for those who wish to teach in some other countries in the future.)
CTSN has links with a wide range of research and support organisations such as The Chartered College of Teaching, Unity Research School (EEF), Anglia Ruskin University and many more. This makes our courses research led with practical application of this research seen in the classroom.
You will have access to weekly Core Training sessions led by experts from within our many partnerships schools.
You will have the support of a subject-based Mentor in your placement school setting and the addition of a Subject Specialist Link for another school, who will offer personalised subject-focused support.
All trainees have a package of core texts provided and we offer a well-stocked library to support your professional development, including access to Anglia Ruskin's online library.
WHERE WILL I TRAIN?
You will have two placements from a list of our excellent partner schools.
Expand the heading below to see the list of our partner schools.
CTSN SCITT partner schools
Abbey College
Bassingbourn Village College
Bottisham Village College
Cambourne Village College
Castle Manor Academy
Chesterton Community College
Coleridge Community School
Comberton Village College
Cottenham Village College
Downham Market Academy
Ely College
Ermulf Academy
Impington Village College
King Edwards Vi School
Joyce Frankland Academy
Linton Village College
Longsands Academy
Melbourn Village College
Nene Park Academy
North Cambridge Academy
Newmarket Academy
Parkside Community College
Saffron Walden County High School
Samuel Ward
Sawston Village College
St. Benedict's Catholic School
St. Ivo School
Stour Valley Community School
St Bede's Inter-Church School
St Peter's School, Huntingdon
Swavesey Village College
Stowmarket high school
Sybil Andrews Academy
The Netherhall School,
Thomas Gainsborough School
Thurston Community College, Bury St Edmunds
University Technical College
Witchford Village College, Ely, Cambridgeshire
HOW DO I APPLY?
All applications for teacher training happen through the DfE Apply service https://www.gov.uk/apply-for-teacher-training
On DfE Apply, you can apply for teacher training places for Primary and Secondary routes through:
Saffron Walden County High School: Saffron Walden County High School is a Lead School working with CTSN SCITT as our accredited provider. Applying to Saffron Walden County High School does not automatically mean all your school placements will be based at Saffron Walden County High School, but rather that we will endeavour to find the most suitable location and high-quality training school to meet your needs.
CTSN – Cambridge Training Schools Network: CTSN is made up of a group of Teaching School Hubs, Multi Academy Trusts and local schools who all work together on Initial Teacher Training.
Regardless of how apply, you will still be trained by CTSN SCITT.
If you really want to be trained by CTSN SCTT and placed in one of our excellent schools, then you can increase your chances of gaining a place by applying to both CTSN SCITT and Saffron Walden County High for your chosen course/route.
WHAT DO I NEED TO SUPPORT MY APPLICATION?
You will need to complete a personal statement telling us why you want to be a teacher and why you have chosen your subject or route. You will need to demonstrate to us that you are aware of the role and demands of the teacher and show us you are enthusiastic about teaching and learning. Referring to any in-school experience is vital in this part of the application. This could refer to your role in a school or any work placement or relevant work experience.
You will need the name and contact details of two references. They can be academic or professional references. Make sure you have contacted your referees in advance to ensure they are ready to respond quickly to any reference requests, as otherwise this could hold up your application.
WHAT IF I NEED SOME IN-SCHOOL EXPERIENCE?
In-school experience is always on offer within our wide-ranging partnership schools. Please contact Angela Rodda (Assistant Principal at Saffron Walden County High and CTSN Assistant Director) for further information on how we could support you in finding some in-school experience both at Primary or Secondary level. To contact Angela regarding school experience, email phaslam@swchs.net
Can I speak to someone in person?
Recruitment events are regularly added to the CTSN SCITT website under the news section https://ctsnscitt.info/news/. You can also find details of our upcoming events below.
UPCOMING CTSN SCITT RECRUITMENT EVENTS
CTSN SCITT Summer Term teacher training events - download the flyer here