A-LEVEL Product Design
A-LEVEL
Product Design allows students to experience the design and manufacture of innovative and personalised products. You will solve real-life design problems and research, design and model your ideas in tasks linked to the real world of commercial design.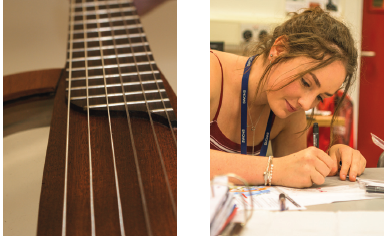 Subject requirements:
Minimum GCSE of 5 in a Design & Technology subject, English & Maths.
Technology Area Coordinator/Teacher to contact - Mr D Bennett
Course Content:
Year 12
You learn communication and presentation skills, advanced drawing techniques and how to use CAD programs and
workshop equipment. Your main project develops these core skills.

Project Information:
Based on a real design issue involving key aspects of the design process:
Discovering main design requirements
Researching these design requirements
Problem solving skills
Generating ideas
Development and prototyping
Manufacturing an outcome
Theory and Maths is also taught throughout the year.
Year 13
You will undertake a substantial 'design, make and evaluate' project study. You will be expected to build on skills acquired from Year 12 projects and develop a unique product that solves a real design problem for a real client. The design focus has real commercial use with a real client, simulating design in industry.
Possible project themes:
Storage solutions, furniture (outside and inside applications), casing, sports equipment, music equipment.
Exam assessment will be at the end of this year. You will continue to learn core theory and receive focused revision sessions closer to the examination.
Assessment Criteria:
Component 1: Principles of Design and Technology
Written examination: 2 hours 30 minutes (50% of the qualification)
Students cover core theory throughout the course. The exam is at the end of Year 13.
Component 2: Independent Design and Make Project
50% of the qualification. This component allows flexibility to choose an area of design. Coursework starts at the end of Year 12 and is assessed at the end of Year 13.
Exam Board: Edexcel
9DT0/01 + 9DT0/02
Are you interested in:
Practical making skills?
Using CAD software?
Traditional drawing techniques?
Working properties of materials?
The relationship between design and manufacturing?
Leading to a career in:
Industrial Design
Product Design
Engineering
Carpentry
Furniture Design
This subject goes well with:
Mathematics
Physics
Chemistry
Click below to learn about the course from Product Design student, Will.