A-LEVEL Politics
A-LEVEL
On this course, you will study the workings of government and political culture in the United Kingdom and the United States. You will situate these core topics in the wider global context. You will also study political ideas such as liberalism, conservatism, socialism and nationalism. The course analyses current events, issues, controversies and scandals in conjunction with political theory and historical developments. Every day, Downing Street and the White House, Parliament and Congress, Fleet Street and Wall Street will raise important issues for debate.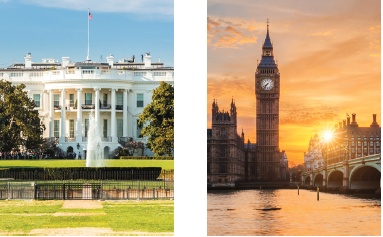 Subject requirements:
Minimum GCSE of 5 in English and 5 in a Humanities subject

Teacher to contact - Mrs J Hesketh
Humanities Area Coordinator - Dr R Mills
Humanities Curriculum Assistant
Course Content:
Unit 1: Government and Politics of the UK
The nature and sources of the British Constitution
The structure and role of Parliament
The Prime Minister and Cabinet
The judiciary
Devolution
Democracy and participation
Elections and referendums
Political parties
Pressure groups
The European Union
Unit 2: Government and Politics of the USA and Comparative Politics
The legislative branch of government: Congress
The executive branch of government: President
The judicial branch of government
The electoral process and direct democracy
Political parties
Pressure groups
Civil rights
Students will use the above theoretical approaches to analyse key similarities and differences between the USA and UK, and evaluate the extent to which they explain these similarities and differences.

Unit 3: Ideologies
Liberalism
Conservatism
Socialism
Nationalism
Assessment Criteria:
100% examination for A-Level
Exam Board: AQA
Are you interested in:
Law?
Civil Service?
Local Government?
Media Management?
Politics?
Leading to a career in:
Finance
Media
International
Relations
Civil Service
Local Government and Planning
This subject goes well with:
History
Geography
Economics
Click below to learn about the course from Politics student, Maeve.