a-level Media Studies
A-LEVEL
Media Studies is 'the ability to create, use, analyse and understand media products, within the context of their audiences and institutions.' There will be opportunities to produce your own media products, such as music videos and print artefacts, as informed by your knowledge and understanding. There will be an emphasis on how media texts represent and position audiences. You will analyse a variety of media texts, including independent and mainstream, as well as media texts produced before 1970.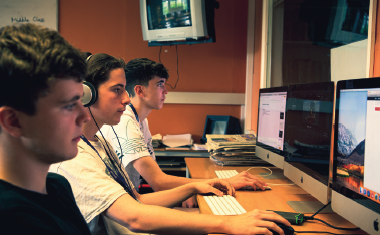 Subject requirements
Minimum GCSE of 5 in English Language
Teacher to contact/Head of Film and Media - Mr I Culley-Morgan
English/Media Studies Area Coordinator - Miss R Jermy
Course Content
The course covers a variety of topics, including:
Advertising & Music Video (unseen extract)
News in the Online Age
Media in the Global Age
You will be required to produce a cross-media product in response to a set brief, combining audio-visual and
print-based work.
Component 1 (Exam is 35% of the qualification)
Section A: Knowledge and understanding of Media language and representation, partly in response to an unseen text.
Section B: Focus on Media industries, including Film, Advertising, Newspapers, Radio and Video Games.
Component 2 (Exam is 35% of the qualification)
Media Forms and Products, with a focus on TV in the Global Age, Magazines and Media in the Online Age.
Coursework (30% of the qualification)
Work on a cross-media production, based on a set brief.
Assessment Criteria
70% of the course is examination assessed and 30% is coursework.
Exam Board: WJEC
Are you interested in:
Film?
TV?
Print media?
Video games?
Online content?
Leading to a career in:
Film
Radio
Television
Journalism
Teaching
This subject goes well with:
English Language
Photography
Film Studies
Click below to learn about the course from Media Studies student, Anna.