A-LEVEL Film Studies
A-LEVEL
Film Studies explores the dominant art form of the 20th Century. Jean-Luc Godard said, 'Film is life 24 frames per second.' We study that. You have an opportunity to develop a detailed knowledge and appreciation of how film makes meaning and generates responses. The course allows you to experience aspects of practical film making, including cinematography, editing and sound design, whilst encouraging appreciation of Hollywood cinema, silent film, experimental cinema, and key historical movements.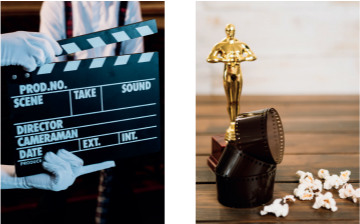 Subject requirements:
Minimum GCSE of 5 in English Literature.
Teacher contact: Mr I Culley-Morgan
English/Media Studies Area Coordinator - Miss R Jermy
Course Content
The course covers a diverse range of films and documentaries. You will study independent and mainstream films from America, Britain and Europe, including topics on Hollywood 1930 – 1990, American film since 2005 and British film since 1995. You will also study global cinema, documentary, experimental film, and silent cinema. There will be opportunities for you to explore filmmaking and screenwriting, with an emphasis on how films are designed, shot and edited. Component 1 (Exam is 35% of the qualification) Section A: Varieties of film and filmmaking, with a comparative study Section B: US Independent Cinema Section C: British Cinema Component 2 (Exam is 35% of the qualification) Global filmmaking; films from diverse, non-English language speaking cultures; silent cinema; experimental films like 'Pulp Fiction' Coursework (30% of the qualification) Coursework provides opportunities for short-filmmaking and analysis.
Assessment Criteria
70% of the course is examination assessed and 30% is coursework
Exam Board: WJEC/Eduqas
Are you interested in:
Film?
Documentaries?
Cinematography?
Editing?
Sound design?
Leading to a career in:
Film
Radio
Television
Journalism
Teaching
This subject goes well with:
English Literature
English Language
Photography
Click below to learn about the course from Film Studies student, Mia.