A-LEVEL English Language
A-LEVEL
English Language challenges students both to analyse texts and to write their own. In doing so, they develop their own original writing skills and the ability to analyse both written and spoken language varieties. Students are also encouraged to collect their own research data for highly rewarding individual projects.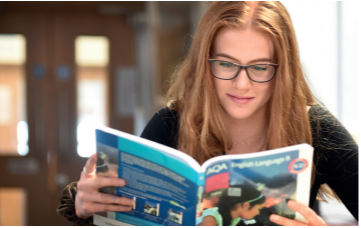 Subject requirements:
Minimum GCSE of 5 in both English Literature and English Language.
Teacher to contact: Mr P Wilson
English/Media Studies Area Coordinator - Miss R Jermy
Course Content
The first examined unit, 'Exploring Language', assesses students' ability to analyse 'real world' texts – looking in detail at their lexical and grammatical choices in relation to contextual factors. Students will learn how to identify patterns in texts and to explore their effects on readers. This unit also involves students writing about topical language issues, such as how technology impacts on language, or how gender influences speech. Students also learn to compare and contrast texts from different non-fiction genres – including spoken transcripts featuring different accents and dialects. The second unit, 'Dimension of Linguistic Variation', leads to students investigating how children acquire language, how language is used in the media and how language has changed over the course of time. This analytical unit is also examined externally.
The coursework unit, 'Independent Language Research' is a fantastic opportunity for students to explore a topic of their own choice through their own collection of linguistic data. Topics might range from 'The Language of Barack Obama' to 'The Language of American Sitcoms'. This is a rewarding and motivating experience for students, as they transcribe and then analyse their own data. The project is accompanied by a piece of creative writing that students produce, which turns the investigation into something more mainstream; it tests students' ability to distil the detail of their investigation into core features and findings.
Assessment Criteria
The A-Level is assessed through 80% examination and 20% coursework.
Exam Board: OCR Course Code: H470
Are you interested in:
Reading?
Analysing texts?
Developing your own editorial and writing skills?
Exploring the effective use of language?
Learning about grammar and its usage?
Leading to a career in:
Journalism and the Media
Teaching • Publishing
Advertising
Legal Profession
This subject goes well with:
English Literature
History
Psychology
Click below to learn about the course from English Language student, Sarah.
The English Area realise that you may want to start preparing for A Level courses in English Language starting in September. Here are some ideas and resources that will help you to do that:
You'll see we've attached the English and Media centre's 'Leaping into Language' booklet – this has lots of great activities to start thinking about English Language in a deeper way – none of these tasks are compulsory, just dip in and out of it as you like. You will need the resource pack and audio files to carry out some of the activities. Click on the links below to access to audio files:
In order to start thinking about language 'in the real world' a bit more, you might like to visit the Radio 4 'Word of Mouth' podcasts site – have a browse and listen to some that you think you'll find interesting – everything from the language of forensics to the language of advertising!
Note – you'll receive two compulsory tasks to do before September when our formal induction starts later this summer.