A-LEVEL Earth Science (Geology)
A-LEVEL
Geology is the 'Earth Science'. It is an accessible, practical and exciting science that involves the study of the Earth – its structure, the processes that form rocks, the role of plate tectonics in creating earthquakes and volcanoes, and the way fossils show how life has evolved on Earth. The course also covers long-term climate change, which sets an invaluable context to today's concerns about global warming. The course will develop the scientific knowledge and practical skills required to understand the different areas of Earth Science and how they relate to each other, including 'real world' applications such as civil engineering, engineering geology, hydrogeology, mining geology and petroleum geology.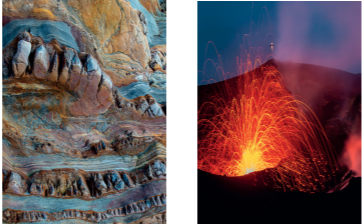 Subject requirements:
Minimum GCSE of 5 in Geography and a 5 in a Science subject.
Teacher to contact: Mr C McConnaughie and Miss S Makepeace
Humanities Area Coordinator - Dr R Mills
Humanities Curriculum Assistant
Course Content
The A-Level includes the following components:
Development of practical skills in Earth Science, including laboratory and fieldwork investigations
Minerals and rocks
Fossils and time
The structure of the Earth
Plate tectonics, geological structures and geohazards
Mining geology
Engineering geology
Quaternary Geology
Geology is a practical course, offering opportunities to explore the subject outside the classroom. We offer a one-day field trip to Hunstanton in Year 12, and a residential visit to the Dorset Jurassic Coast in Year 13.
Assessment Criteria
The full A-Level course is assessed at the end of Year 13 by three synoptic examinations, totalling 6 hours. These include a range of question types, such as multiple choice, short answer and extended response answers.
Exam Board: WJEC
Are you interested in:
Fossils?
Evolution of life on Earth?
Mass extinctions?
Plate tectonics, earthquakes and volcanoes?
The causes and effects of climate change?
Leading to a career in:
Natural Hazard Management
Mining
Engineering Geology
Water Supply Management
Environmental and Land Management
This subject goes well with:
Geography
Environmental Science
Chemistry
Click below to learn about the course from Earth Science (Geology) student, Poppy.