A-LEVEL Music Technology
A-LEVEL
The Music Technology course is a challenging and exciting specification, designed to introduce you to the skills and knowledge you need to work in the music industry. This new specification places an emphasis on the practical techniques – both creative and technical – of working with music technology, as well as helping you to master the underlying theory.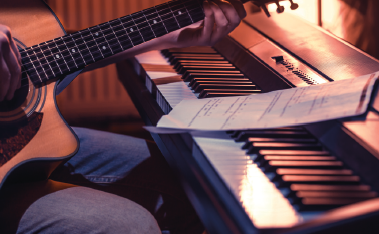 Subject requirements:
Minimum GCSE of 5 in Music or equivalent (e.g. Grade 6+ in an instrument; Music Technology or Music Production qualification; demonstrable Music Production skills)
Teacher to contact - Mr E Reed
Music Area Coordinator - Miss C Law
Music Curriculum Assistant - Mrs E Ure
Music Curriculum Assistant - Mrs H Razzell
Course Content
You will study recording and production techniques, the principles of sound and audio technology, and the development of recording technology. Both Year 12 and Year 13 complete the following components:
1. Recording (20%)
2. Composition (20%)
3. Listening and Analysing (25%)
4. Producing and Analysing (35%)
Assessment Criteria
In Year 13, there are two 'non-examined assessment' projects and two exams.

Non-Examined Assessment
You will produce a high-quality audio recording in our studio in Saffron Hall, as well composing an original piece of music using synthesis and sampling techniques in our iMac suite.
Exams
The first exam focuses on listening skills, including identifying and commenting on the choices made by the producers and technicians of unfamiliar recordings. The second exam is practical: you will edit and manipulate audio and MIDI files, demonstrating your mastery of the software.
Exam Board: Edexcel
A-Level: 9MT0
Are you interested in:
Music technology?
Composing music?
Recording techniques?
Popular music?
Demonstrating your musical understanding?
Leading to a career in:
Media composing
Music production
Recording engineering
Arts management
Musician
This subject goes well with:
Click below to learn about the course from Music Technology student, Archie.