A-LEVEL Music
A-LEVEL
Music is a subject with numerous transferable skills, popular with universities and employers alike. On this course, you will compose, perform and analyse music to broaden your understanding of how music works. All students are expected to engage fully with performance opportunities in the department. Students may also apply for our Music Academy and follow a special programme alongside their normal studies; a weekly timetabled Academy session covers all instruments and voices in classical and other idioms. Additional Academy opportunities include ensemble playing, composition and conducting.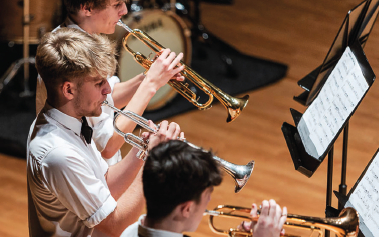 Subject requirements
Minimum GCSE of 5 in Music + Grade 5 on an Instrument + Grade 5 in Theory
Teacher to contact/Music Area Coordinator - Miss C Law
Music Curriculum Assistant - Mrs E Ure
Music Curriculum Assistant - Mrs H Razzell
Course Content
Year 12
Composing and Performing make up 60% of the course content. The remaining 40% is the Appraisal Component on the Development of the Symphony from 1750–1830. This unit also focusses on jazz and music of the Twentieth Century.
Year 13
You can adjust the balance of Performance and Composition to suit your interests and skills; one must be 35% and the other 25% of the final submission. The Appraisal part of the course is assessed by a traditional exam, which includes questions on prepared and unseen musical extracts and scores. It extends the study of both the Symphony and Jazz/C20.
Assessment Criteria
Your grade is based on individual and ensemble performances, composition, and developing and demonstrating musical understanding through close analysis.
Exam Board: WJEC
A-Level: A660QSL
Are you interested in:
Performance?
Composition?
Analysis?
Listening?
Understanding music?
Leading to a career in:
Performance
Teaching
Music Production and Management
Publishing and Journalism
Arts Administration

Click below to learn about the course from Music student, Ash.