wjec Tourism - Level 3
Level 3 Diploma
As an industry sector, Tourism is expanding rapidly as people prioritise their time off work; this rapid growth has led to a huge demand for a more flexible workforce.
With the UK being one of the top global tourist destinations, our Tourism course gives students the knowledge and skills needed to be successful, whether they choose to study at university, or go directly into employment. The course dovetails with Level 3 Diploma courses such an Environmental Science and Business, or with A-Level subjects such as Geography or English. Universities accept this qualification equally alongside more traditional A-Level courses. This
is the course for you if you enjoy coursework and are interested in the planning, management and sustainability of the global tourist industry.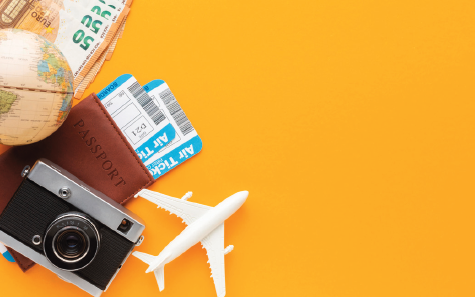 Subject requirements:
Minimum GCSE of 4 in a Humanities subject and GCSE 4 in English Language.
Teacher to contact - Mr G Marshall
Social Sciences Area Coordinator - Miss C Miller
Social Sciences Curriculum Assistant - Mrs D Last
Course Content
The Level 3 Tourism qualification is made up of a Certificate in Tourism (completed in Year 12) and a Diploma in Tourism
(which is added on to the Certificate in Year 13).
Certificate Units:

Unit 1: The UK Tourism Product
What does the UK offer in terms of inbound and domestic tourism and how has this product developed in recent years? (Externally assessed).
Unit 2: Worldwide Tourism Destinations
Which factors determine a person's choice of tourism destination? (Internally assessed)

Diploma units:

Unit 3: The Dynamic Tourism Industry
An examination of the ever-changing nature of the Tourism industry, looking at environmental, economic, political and technological factors as well as the impact of culture and consumer trends. (Externally assessed)

Unit 4: Event and Itinerary Planning
In this unit, students have to plan a range of services to meet the needs of a range of customers. (Internally assessed)
Assessment Criteria
The WJEC Level 3 Certificate in Tourism will be graded A–E. The WJEC Level 3 Diploma in Tourism will be graded A*–E – just like the current A-Level. The qualification will carry the same weight and UCAS value as all other A-Level subjects.

Please note this course is one year only in the first instance. Only upon successful completion of the first year, will students be invited to complete the second-year qualification.
Exam Board: WJEC
Are you interested in:
Working in an expanding industry?
Sustainable tourism development?
Exploring other cultures?
Travelling to exotic places?
The business of tourism?
Leading to a career in:
Tour Operations
Travel Management
Hospitality Management
Event Management
Marketing
This subject goes well with:
Business
Geography
English Language