Sixth Form Virtual Open Evening
WELCOME TO OUR SIXTH FORM VIRTUAL OPEN EVENING PAGES!
Here you will find some important information about Saffron Walden County High School, including how to apply to join our Sixth Form in September 2021.
Please see below a welcome message from Amy Kennedy, Director of Sixth Form, along with an introduction and a virtual tour of our Sixth Form:
Usually, we would welcome you into school for our open evening. However, this year we have had to approach our open evenings in a slightly different way. We recommend that you look through our prospectus, all of the presentations and information on these pages to gain a picture of the fantastic opportunities our Sixth Form has to offer.
We would like to invite you to join our Social Media Takeover every day this week from Monday - Thursday, starting at 4.00pm. Meet our Sixth Form team who will be available to answer any questions you may have about joining our Sixth Form.
Access the Sixth Form Social Media pages via your Facebook or Instagram accounts.
Click here for Facebook Click here for Instagram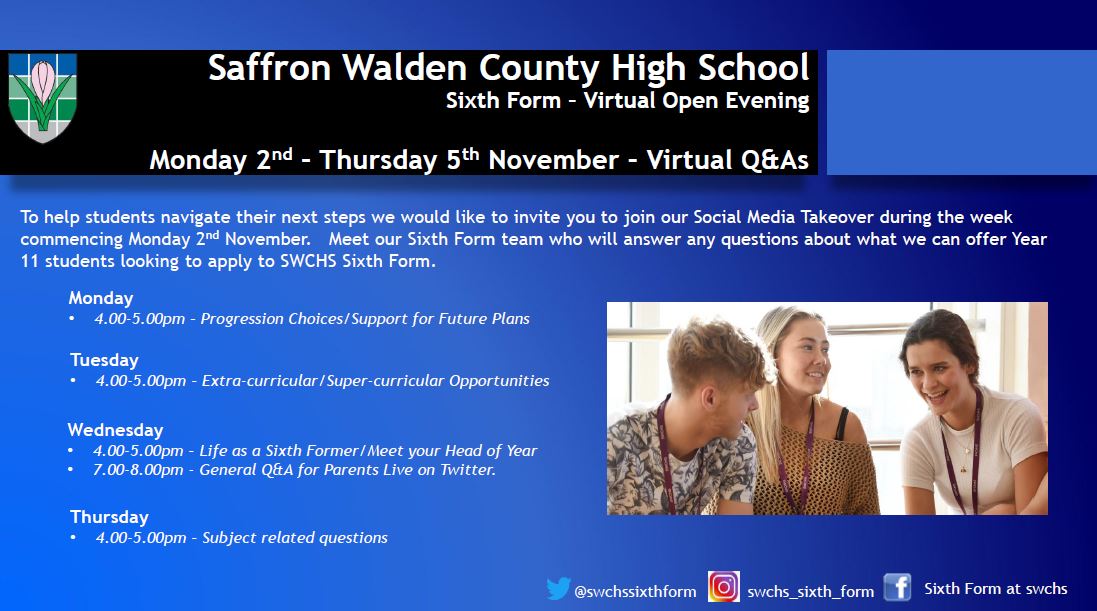 By joining our school, you will become part of an exciting and inspiring Sixth Form. From wherever you join us, our Sixth Form will feel like a new place to learn, and you will receive the best educational care. We are a large school but a close-knit community; you will be supported, challenged and encouraged to be the very best you can be.