BTEC Information technology - level 3
BTEC LEVEL 3 DIPLOMA
The Single Award course for Information Technology consists of four units and is equivalent to an A-Level at the end of Year 13. It is also possible to achieve a Certificate in IT at the end of Year 12. This is equivalent to half an A-Level and carries UCAS points, making it a great option as a fourth subject.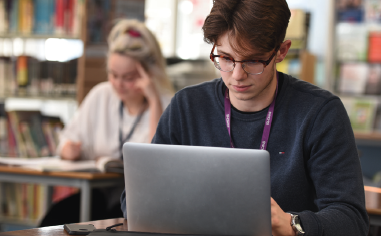 Subject requirements
Minimum of GCSE 4 in English and Maths + 4 in Computer Studies (if studied at GCSE)
Teacher to contact/Computing Area Coordinator - Ms J Symonds
Course Content
Year 12
You will study the two following units during Year 12:
Unit 2: Creating Systems to Manage Information
During this unit you will learn how to normalise data and build database systems using Microsoft Access.
Unit 3: Social Media in Business
You will look at different applications and how businesses use them for promotion and customer service. You will carry out a social media campaign and analyse how effective it was. There are opportunities to work with real clients, which is a great experience.
Year 13
During Year 13 you will study:

Unit 1: Information Technology Systems
This unit covers fundamentals of computing, cyber security, laws surrounding computing, how computers work.
Unit 6: Website Development
You will learn the principles surrounding interface design, and factors affecting website performance. You will gain skills
to build interactive webpages, learning basic HTML, JavaScript and CSS. You will create web pages, putting these skills
into practice.
Assessment Criteria
The assessment includes a range of teacher marked coursework assignments, exam board set tasks, and written exams.
Please note this course is one year only in the first instance. Only upon successful completion of the first year, will
students be invited to complete the second-year qualification.
Exam Board: Edexcel
A-Level (Single):
BTEC National Level 3 Extended Certificate
Are you interested in:
How computers are used in the business environment?
How social media works in the business world?
Website development?
Management of data?
Understanding the use of cloud technologies?
Leading to a career in:
Business
Games Design
Website Design
IT Consultancy
Marketing
This subject goes well with:
Business
Media Studies
Digital Media
Click below to learn about the course from Information Technology student, Genevieve.